Clans of Caledonia was released on the browser-based platform Board Game Arena! Clans of Caledonia is the most popular among 161 games on the whole platform! There are currently more than 700 games of Clans of Caledonia in progress! The developer Leo really did a fantastic job implementing the game.
You can now play online against other players or use the official solo variant which is a great way to learn the game. There are two modes: turn-based and real-time.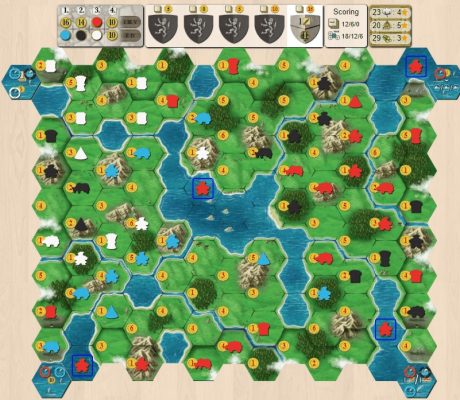 The game is a premium game: that means that you need a premium account to open a table there. However, you can join a table even without a premium account. The premium membership only costs 2€ per month though. Going premium gives you these perks:
create tables for Clans of Caledonia and many other premium games
removes ads
hotseat mode
video/voice chat
game stats
create tournaments
choose your player color
The revenues are split among Karma Games, the developer Leo and Board Game Arena and help the platform to keep things running.
Play Clans of Caledonia on Board Game Arena